Tonight's Open House is 3:30-6PM. There will be a Blood Drive in the Band Hall until 5PM. Please join us and help save lives.

SPISD Open House 3:30-6:00pm tomorrow. Students will be released at the normal time, and we will not have after school care. We look forward to seeing everyone tomorrow afternoon!

SPISD parents, fall individual picture retakes are tomorrow. Have a great rest of the week Sharks!

Parents, the phone lines are down right now at the school. If you need to contact the school, please email Scottie
sray@sabinepass.net
. We will send out another notification when they are back up and running. Thank you and sorry for the inconvenience!

Dear Shark Parents, due to the extensive construction taking place on our sports complex, we kindly request that our students remain in the stands with their guardians during the games. Unfortunately, we do not have a designated area for our younger sharks to run and play this season. Your assistance and cooperation in this matter for the remainder of the football season are greatly appreciated. Thank you, and Go Sharks!

Parade 4:00pm. The parade will start behind the school at bus drop off. It will travel down Tremont (the road behind the school) and take a right onto the road next to the post office and Tammie's Diner. After passing the diner, the route will turn to the right on to Hwy 87 and continue to the stadium. After the parade, we will have our annual Powder Puff game followed by the Homecoming Pep Rally and burning of our SP letters. We hope to see everyone there!!!

Middle school volleyball games at home versus Evadale at 4:30pm. We hope you can come out to support our girls. Go Lady Sharks!

SPISD Parents, we are very sorry for the extra delays and traffic over the last 2 days. We have been meeting weekly with all companies, law enforcement agencies, TXDot, etc. to get the traffic flowing. Things have been getting better, but I know the last 2 days have been frustrating for us all. TXDot told us they finished the repairs they have been working on and will be out of our way. Again, we are working every avenue we can to expedite the traffic and will continue to do so in the future.

The SPISD varsity football game for tomorrow has been cancelled. High school will still have practice until 5:30pm. Middle school will go home at the 3:00pm school bell.

Reminder parents, it's Picture Day today! Smile pretty Sharks!

Shark Parents, we have an early release this Friday, September 1st. The students will be released from school at 12:30pm. Students riding the bus will arrive at the bridge around 12:50pm. We hope everyone has a wonderful three day weekend!

CHANGE IN AFTERNOON CAR PICK-UP. For the remainder of this week, the district will be tearing out and repaving the pick-up driveway behind the school. If you are picking up your student(s) in the afternoon, please continue past the normal pick-up zone and enter into the adjacent student parking lot. We will have signs and cones indicating where the first car should stop. We apologize for the slight inconvenience, but it will be really nice when it is done for next week!

Both Varsity and Middle School football will resume practice after school this afternoon. Bus will arrive at the bridge for drop off at 5:45pm.
SABINE PASS ISD ADOPTED A TAX RATE THAT WILL DECREASE TAXES FOR MAINTENANCE AND OPERATIONS FROM LAST YEAR'S TAX RATE. THE TAX RATE WILL EFFECTIVELY BE DECREASE BY 4.48% PERCENT AND WILL DECREASE TAXES FOR MAINTENANCE AND OPERATION ON A $100,000 HOME BY APPROXIMATELY $.09 .

If you are looking at the previous message through text, the attachment will not show up. Please visit the website,
www.sabinepass.net
, under Live Feed to see the attachment. You can also download our Sabine Pass ISD app through the Appstore.

Shark Fans, the Varsity Football game vs. Kountze Lions has been moved back 30 minutes and will be begin at 6:30pm this afternoon. Due to construction, we will have to park on the north side of the athletic complex and enter through the main gate. The attached file is a map for parking. Yellow on the map indicates the parking area. The red areas are considered closed parking lots. We look forward to seeing you all this evening for our first game on the new field! Go Sharks!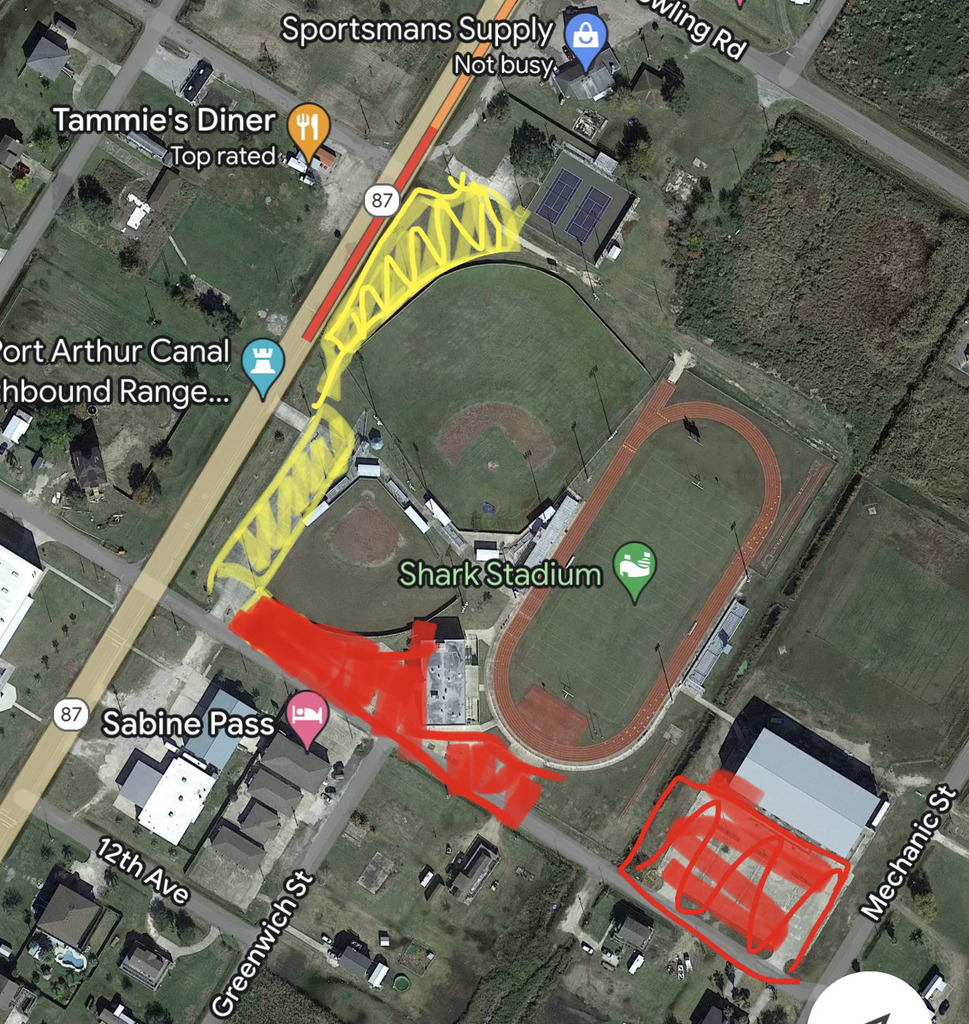 SPISD buses will remain at the bridge until 8:00am this morning. Everyone please be careful on the road!

Parents, due to the traffic issues in the afternoon, all practices will be conducted during the school day. We are adjusting our class schedules to include sufficient amount of time for practice. Our goal is for a temporary, short term adjustment as we are working very closely with all industrial stakeholders on the traffic issues. Our goal is to return to our normal afterschool practices once traffic adjustments have been made. All students will be released at 3:00pm. We appreciate all the dedication and support from our students and their families as we try to navigate all concerns. Keep swimming sharks!

Parents, for safety reasons, students are not allowed to stay after school unless they are participating in the event for the evening. We do not have anyone scheduled to monitor students before events, so students must be picked up as they would for any regular school day. Students younger than high school must be accompanied by an adult relative while at any event. Thank you for your help in this matter.