Reminder, it is Hat Day tomorrow at Sabine Pass. $2 and you get to wear your favorite hat all day!

The Port Arthur Health Department will be at Sabine Pass ISD tomorrow from 10AM-4PM performing vaccinations. All students 12 and older are eligible for the Pfizer vaccine. A parent must be present to sign the necessary paperwork if you would like your student to participate.


Reminder parents that car pickup will be at the football field following the pep rally. We will have staff available to direct everyone to the correct location. Be Safe and Go Sharks!

Reminder, we are having our first pep rally this afternoon at 2:30pm at the football field. Guests are welcome to attend, and we ask that all guests park at the Multipurpose Building behind the football field. Come join us and wear your gold in solidarity to fight Childhood Cancer!


Fall pictures will continue as scheduled Wednesday, September 15th. If there is any update to this schedule we will send out a notification. Thank You Sharks!

Sabine Pass ISD will return to normal school operating hours Wednesday, September 15th. Morning bus routes will run at its regular schedule. We look forward to seeing you all tomorrow morning!
Sabine Pass School will return to our normal schedule tomorrow, Wednesday , September 15th.
Tropical Storm Nicholas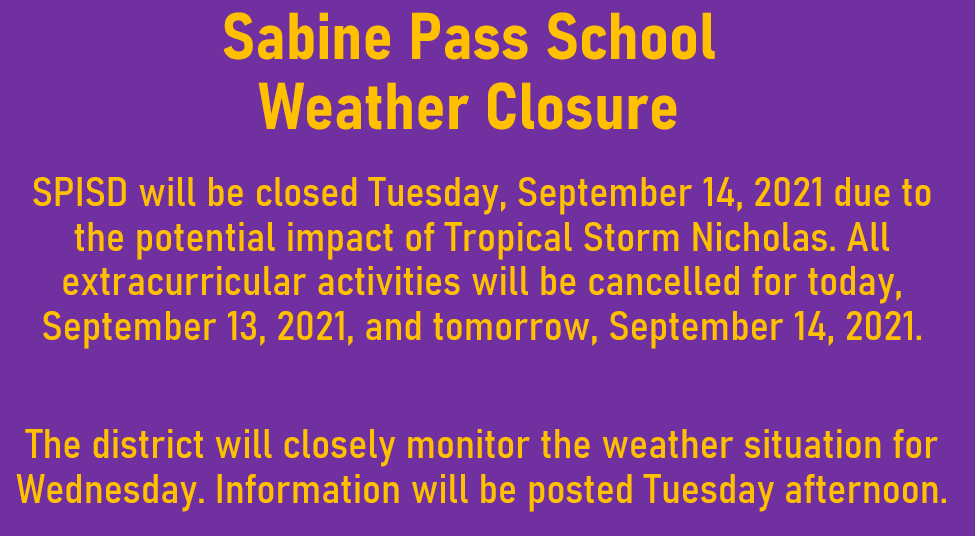 REMINDER: START TIMES AND BUS SCHEDULE 6:45 a.m. - 1st bus arrives at Bridge 7:30 a.m. - Last bus leaves the Bridge 7:50 a.m. - 1st Period Tardy Bell Buses may stay as a courtesy after 7:30, but students arriving on a late bus are not guaranteed the ability to eat breakfast. Students may be excused from tardies due to mitigating circumstances such as traffic and other conditions as determined by the principal. Safety is our number one concern and we want to make sure students and parents are well aware of start times and bus times so they can prepare properly and help ensure a safe trip to school.