Parents, if you are still in traffic, the buses are continuing to wait for students under the bridge.

Parents/Guardians, if you are attending any awards ceremonies today, you might want to leave a little earlier. TX Dot, as many of you seen this morning, is working on Hwy 87 and they have it down to one lane. Sorry for the inconvenience and we look forward to seeing many of you throughout the day.

Please sure students bring all Chromebooks, calculators and other checked-out materials and devices tomorrow, Thursday, May 19th. We will begin the process of collecting these materials so students can be cleared and report cards can be released next week.

All ticket and money for the #CourageousCarlos Raffle are due by tomorrow Thursday, May 19th. Thank you for all your effort and support.

SPISD Weekly Activities Schedule Tuesday(17th): 5th/8th Science STAAR & Middle School Awards 1:30pm — Wednesday(18th): 8th Grade Social Studies STAAR & Super Fin Day — Thursday(19th): 9th/10th Grade Awards 10:00am, 1st/2nd Grade Awards 12:00pm, & 3rd-5th Grade Awards 1:30pm Friday(20th): Elementary/Middle School AR Party


SPISD will host its Annual Honors Banquet for 11th and 12th grade students tomorrow, Thurs., May 12th at 5:30PM in the Cafeteria. Student meals are covered by the district. Parents/Family will be $15 per person. The event is being catered by Tony's BBQ. This is a formal event so students/guests/faculty will be dressed to impress!

Reminder, SPISD STAAR testing this week. Math (Grades 3rd-8th): Tuesday, May 10th ELA (Grades 3rd-8th): Wednesday, May 11th. Please make sure the students get a good night's rest and a good breakfast so the students will be focused and ready. Also, please help us to have them here on time so we can get started as quickly as possible. The students have been working really hard the last few weeks in preparation!


The public performance of Sabine Pass Theater's 2022 One Act Play, Alice!!!, will be Monday, April 25th at 6:30 PM. We look forward to sharing our award-winning story with everyone!

Baseball and softball have been cancelled for this afternoon (3/30) due to the weather.


SPISD will be hosting the District 25AA Academic Meet tomorrow. This is scheduled as a school holiday for students. Students who are competing need to arrive on campus by 7:45AM if they have one of the first events and 8:00 for all other events. A bus will leave from the bridge at 7:30AM and return at 3:30PM for those who need it.

Due to the inclement weather forecasted for tomorrow, Sabine Pass ISD will be closed Tuesday, March 22, 2022. All scheduled activities will be postponed to a later date. Reminder that Wednesday is a scheduled student holiday due to SPISD hosting the High School District UIL Meet. Classes will resume on Thursday, March 23rd. Stay safe Sharks!

Middle School track meet for in Evadale today has been cancelled due to weather.

Correction: March 23rd (not January). Sorry for the mistake.

Reminder parents that Wednesday, January 23rd is a student holiday due to SPS hosting district UIL. We hope everyone had a very nice week and look forward to seeing everyone tomorrow!

Parents, SPISD will be hosting Super STAAR Saturday on March 26th in preparation for the upcoming STAAR/EOC tests. Forms were sent home with students. If you have not received one, a copy will be posted in this message and on the school website.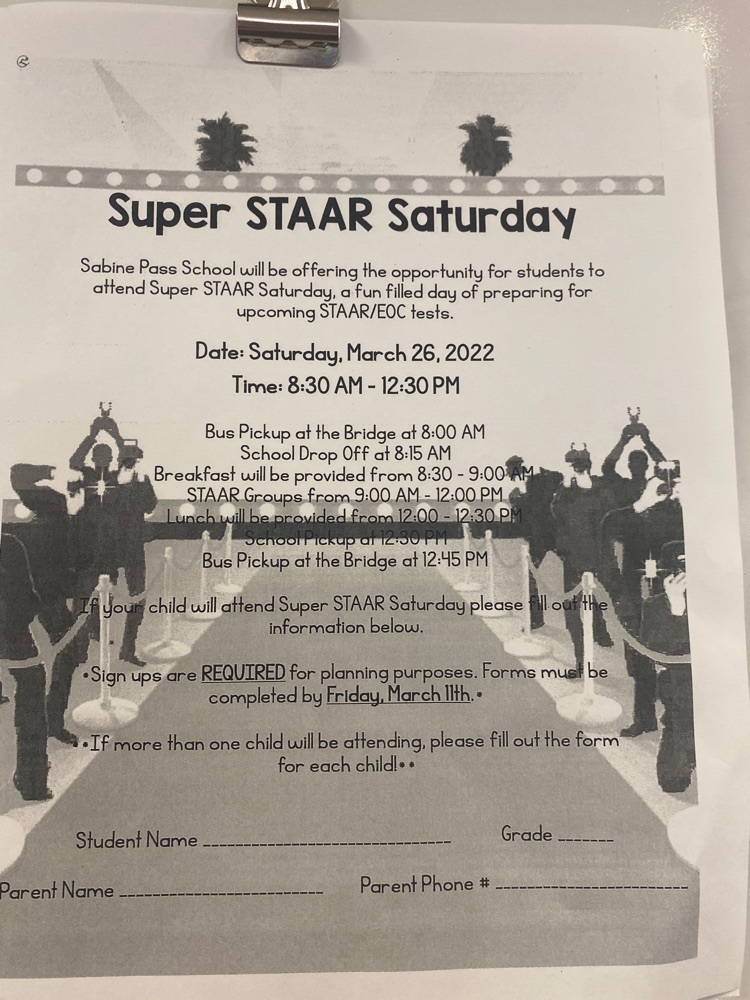 Parents, we now a telephone line up and running. We still do not have our full system up and available, but we can receive calls. If you call and get a busy signal, please call back a few minutes later because we only have one line operational at this time. 409-971-2321

Parents: If your student is attending the middle school dance this evening, we will NOT have any adults to watch the students after school until the dance begins. Students will not be allowed on campus until the dance. We look forward to seeing our middle school kiddos this evening from 6-9pm. Thank you and have a great weekend!