Fall pictures will continue as scheduled Wednesday, September 15th. If there is any update to this schedule we will send out a notification. Thank You Sharks!

Sabine Pass ISD will return to normal school operating hours Wednesday, September 15th. Morning bus routes will run at its regular schedule. We look forward to seeing you all tomorrow morning!
Sabine Pass School will return to our normal schedule tomorrow, Wednesday , September 15th.
Tropical Storm Nicholas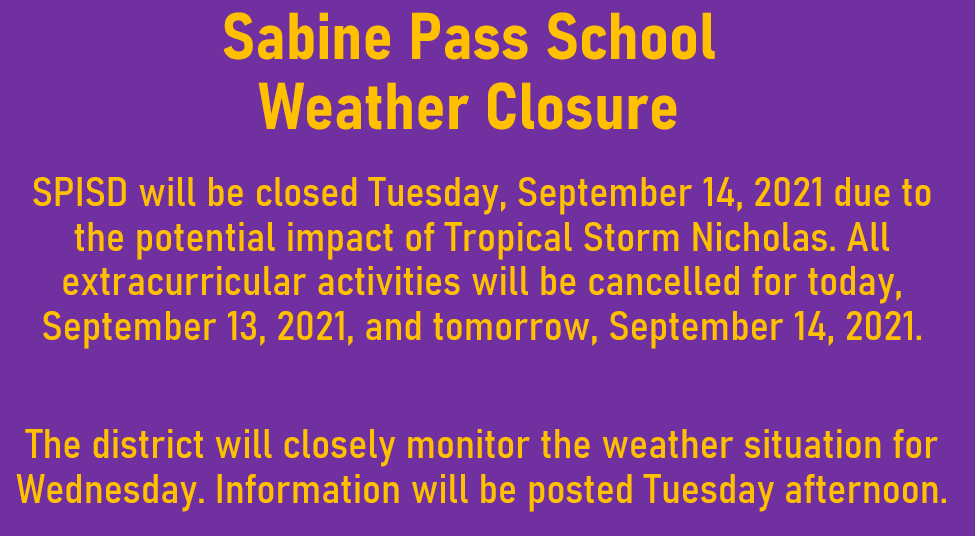 REMINDER: START TIMES AND BUS SCHEDULE 6:45 a.m. - 1st bus arrives at Bridge 7:30 a.m. - Last bus leaves the Bridge 7:50 a.m. - 1st Period Tardy Bell Buses may stay as a courtesy after 7:30, but students arriving on a late bus are not guaranteed the ability to eat breakfast. Students may be excused from tardies due to mitigating circumstances such as traffic and other conditions as determined by the principal. Safety is our number one concern and we want to make sure students and parents are well aware of start times and bus times so they can prepare properly and help ensure a safe trip to school.








Annual Title I meeting to inform parents of the Title I, Part A requirements and the parents' right to be involved, and to allow parents input for parental involvement activities and how funds can be allotted. Dates/Times: 8/23/21 9AM and 8/24/21 10AM

Book Fair continues through the end of the week. You can send money with your student(s), and we will make sure they can shop during the day. You may also pick them up in the afternoon after school and shop with them if you would like. It was a great first day Sharks!

We are super excited to see all of our students tomorrow morning! We have a couple of guidelines for the 1st day of school tomorrow for those who would like to walk their student(s) into the building. We are only allowing parents in the main hallway of the building. You may walk your student(s) to the entrance of the cafeteria where we will have a staff member available to lead them to their class. We encourage everyone to wear a mask and will have them available if you choose to wear it. Again, we are excited to begin the 2021-2022 school year and Go Sharks!

8th grade parents, please have your student fill out a google form sent to their school email concerning their elective class. We look forward to seeing you all soon!

Reminder HIGH SCHOOL STUDENTS ONLY Practice for both football and volleyball begins Monday (8/2) from 8:00-1:00. Link to volleyball and football letters posted on the website.


Reminder: Shark Camp is not scheduled for next week. It will resume the following week June 21st-25th. You all have a great weekend!