Due to unforeseen circumstances, SPISD regretfully has made the decision to cancel the homecoming parade scheduled tomorrow, January 11th. Coronation will still be held as scheduled on Friday, January 14th. Please come out and support the Lady Sharks tomorrow at 6 pm.



Reminder that the new SPISD school release time is at 3:00pm. We have also updated our Covid-19 Policy and posted it to the school website. Please take the time to look it over, and if you have any further questions, please contact SPISD administration. We hope everyone had a relaxing break, and we look forward to seeing everyone tomorrow morning.
New school times.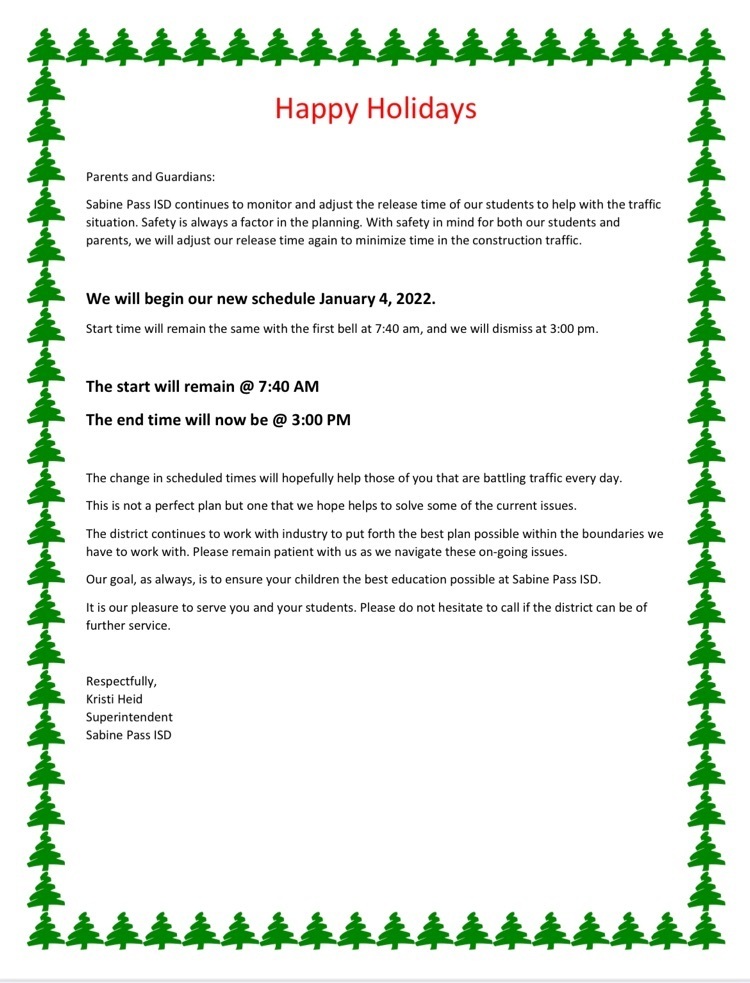 Parents, due to the afternoon traffic and our annual Winterfest performance tomorrow evening, we will have an early release at 1:45pm. If you are unable to pick-up your student(s) at this time, we will continue to hold your student at the school and run our normal afternoon bus route. No students will be allowed to remain on campus after the 3:20pm school bell.

Reminder: Sabine Pass ISD will have an early release this Friday, Dec. 17th at 12:30pm. Happy Holidays Sharks!

Field Trip, one more reminder, students do not need to bring their backpacks tomorrow.

Reminder: Our Elementary students have their field trip tomorrow morning. If you are normally on the later buses in the morning, it might be a good idea to have breakfast at home. We have to leave promptly at 8:00am to make it to Beaumont on time. Also, make sure your student(s) bring a sack lunch. Thanks!

Reminder: Tomorrow, Dec. 9th is a student holiday due to hosting Elementary/Middle School UIL District Contest. Forms were sent home to parents for those students who will be participating in the contest. We will have a bus at the bridge around 7:30am and will leave promptly at 8:00am to return to the school. We will also run a bus around 12:00pm to drop off students who have completed their events. The last bus in the afternoon will arrive at the bridge around 4:30pm to drop off the students who had events in the afternoon. As always, you are welcome to bring or pick-up students at the school if it works better in your schedule. Thanks and Go Sharks!

On Tuesday, December 14th @ 2PM, in the Frankie Schexnayder Auditorium, Championship Rings will be presented to the State Title Winners from the 2020-21 school year. Parents of students receiving rings are welcome to attend.

Parents, Sabine Pass ISD is adjusting our calendar due to a change in the District Elementary and Middle School UIL contest. Tuesday Dec. 7th will be a normal school day, and Thursday Dec. 9th will now be a student holiday. We will run buses for all our UIL contestants and more information will be sent out later this week concerning the district meet.

Happy Thanksgiving Sharks! We hope everyone has a great day!

Reminder parents that the book fair is going on throughout this week, and will continue online through November 25th. Mrs. Almond will have it open through our Thanksgiving lunches on Thursday if you would like to take your student to shop after you fill your belly! Thank you Shark Parents for all your support!


Reminder: Thanksgiving Dinner on Thursday, Nov. 18th. Vistor adult meals $3.50 and children visitor meals $2.85. Cash or check only. Early Childhood-Kinder. 10:30am 1st/2nd 10:40am 3rd-5th 10:45am Middle School 11:15am High School 12:09pm Please return the RSVP form by Monday, Nov. 15th.

In an effort to better serve our students and help our parents Sabine Pass ISD will be adjusting our schedule starting Monday, November 15th. Our new dismissal time will be 3:20 PM.