IMPORTANT UPDATE: Due to impending weather on Friday, the SP MS football game has been moved to tomorrow (Wednesday 11/2 at 5:00pm @ home). The SP HS varsity football game has been moved to Thursday (11/3) at 7:30pm @ Colmesneil.

IMPORTANT UPDATE. . . Due to impending weather on Friday, the SP middle school football game has been moved to today at 5:00pm in Deweyville. The SP varsity football game has been moved from Friday to Thursday night at 7:00pm vs. Deweyville in Sabine Pass. We will have our pep rally at 2:25pm on Thursday as well in the competition gym. We apologize for the change, but the 2A district met and determined that it would be better to play the games 1 day earlier to avoid the weather. Go Sharks!

As part of School Safety Week SPISD will be conducting a Lockdown drill tomorrow on campus. There will NOT be any active threat or simulation of an active threat. We will be practicing the procedures to take in the case of a lockdown in order to be better prepared.

Reminder that seniors will be taking their senior yearbook pictures tomorrow. Please make sure your students are in dresscode and make sure our males have shaved facial hair. Thanks!

HAT DAY! Tomorrow (Friday, October 14th) is a Hat Day for Sabine Pass ISD. If you would like to wear your favorite hat you can donate $2 in the morning to support the Junior Class and get your Hat Day armband.

Parents, Morning Bus Pick-up at the Bridge: Please make sure you are dropping off your student(s) per protocol each morning. For safety reasons, it is vital that we follow this procedure until they are finished dredging the ship channel. We are trying to move cars through as quickly as possible, so please be patient with us. Thank you and hopefully they will be through and out within the next few weeks.

SITE CHANGE - MS FOOTBALL - TODAY The MS football game will be played at HOME (Sabine Pass) today at 5PM. The game was originally scheduled to be at Hull Daisetta.

Reminder Parents: Please make sure your students are in dress code each school day. We will begin processing referrals if they are out of code. Our dress code is posted in the student handbook under the heading Dress and Grooming on the school website,
www.sabinepass.net
. If you have any questions, please call the school and speak with an administrator.

REMINDER: The SPISD Open House for all grades is today from 3:30-5:30. The Library's Book Fair will be open as well. SP Spirit shirts are available for pick up from Ms. Almond in the library.

There will be no after-school practice for MS or HS football today (Monday, September 26th).


Attn: The photo of the route does not post to the text message. Please download the Sabine Pass ISD app to view the photo. We will also post the parade route on social media. Sorry for the inconvenience.

Sabine Pass ISD will have a new parade route for our homecoming festivities this year. The parade will start at 4:00pm, and an aerial photo has been attached to this message. We look forward to seeing everyone on Thursday and Friday for all the festivities. Go Sharks!!!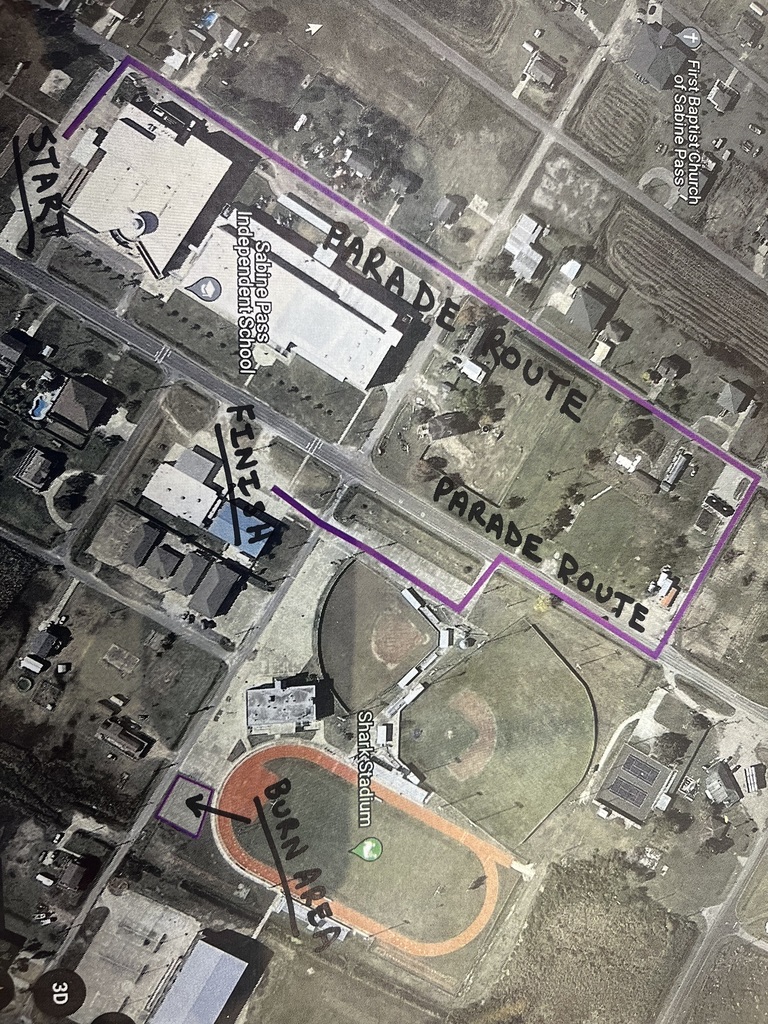 REMINDER: In order for students to arrive on campus in time for the beginning of classes the last bus at the bridge must be LEAVING at 7:30AM each morning. If students do not arrive before 7:30AM we cannot guarantee that a bus will be at the bridge and parents/guardians will need to bring the student to campus. If you are taking advantage of this service please plan accordingly so we can continue to transport your students.

REMINDER: Students must be accompanied by a parent/guardian if they are attending activities/games. Only HS students may attend games without a guardian. The school grounds/gym are not open for ANY students watching an event until 30 minutes before a game.

After-School Bus Pickup Under the Bridge: Parents, please do not park alongside the new cones under the bridge in the afternoon. The buses do not have room to loop around. Mr. Gragg will be down there around 2:45pm should you have any questions. Thanks!!

Attention Sharks! Our Gold Out Pep Rally has been moved up to approximately 6:00pm. It will follow our Varsity Volleyball game vs. Spurger. Go Sharks!

REMINDER: Due to safety concerns students cannot walk passed the plant entrance at the bridge bus pick-up. Students will only be able to go to cars that are even to, or behind, the front bus. All cars arriving later will need to wait to pick up their students once the front bus leaves and more cars are allowed to enter the drop off area. These procedures must be followed to ensure the safety of all our students. Unsafe behaviors may result in the loss of bus-riding privileges

Good morning Sharks! Reminder that Picture Day is tomorrow. Dress your best!

Sabine Pass ISD, along with many districts in the area, are asking students and district employees to wear maroon and white on Tuesday, September 6th in support of Uvalde ISD and its community. Thank you and have an excellent Labor Day!