The District Educational Improvement Committee will hold a meeting for public comment on the proposed renewal of the District of Innovation Plan for SPISD. The meeting will take place in the SPISD Board Room at 2:00 PM on Friday, Feb. 11, 2022. The plan is viewable at the following link:
https://drive.google.com/file/d/1Yk-G9sAskdIJwuHNYZR0Cg-RXhjgd-a3/view?usp=sharing
and will be up for review on sabinepass.net for 30 days before a vote by the SPISD Board of Trustees.

Parents/Guardians, we are currently having issues with our phone system at the school. We are working to get them back up and running, but they might not be up until Monday, Feb. 8th. We will notify families when they are fixed. If you need to contact the school, please do so by email.
Sray@sabinepass.net
or
brector@sabinepass.net







REMINDER: Any non-HS students that wish to attend tonight's games must be accompanied by an adult during the games. JV Boys begin at 4:30PM and Homecoming coronation is at 5:45.



Due to unforeseen circumstances, SPISD regretfully has made the decision to cancel the homecoming parade scheduled tomorrow, January 11th. Coronation will still be held as scheduled on Friday, January 14th. Please come out and support the Lady Sharks tomorrow at 6 pm.



Reminder that the new SPISD school release time is at 3:00pm. We have also updated our Covid-19 Policy and posted it to the school website. Please take the time to look it over, and if you have any further questions, please contact SPISD administration. We hope everyone had a relaxing break, and we look forward to seeing everyone tomorrow morning.
New school times.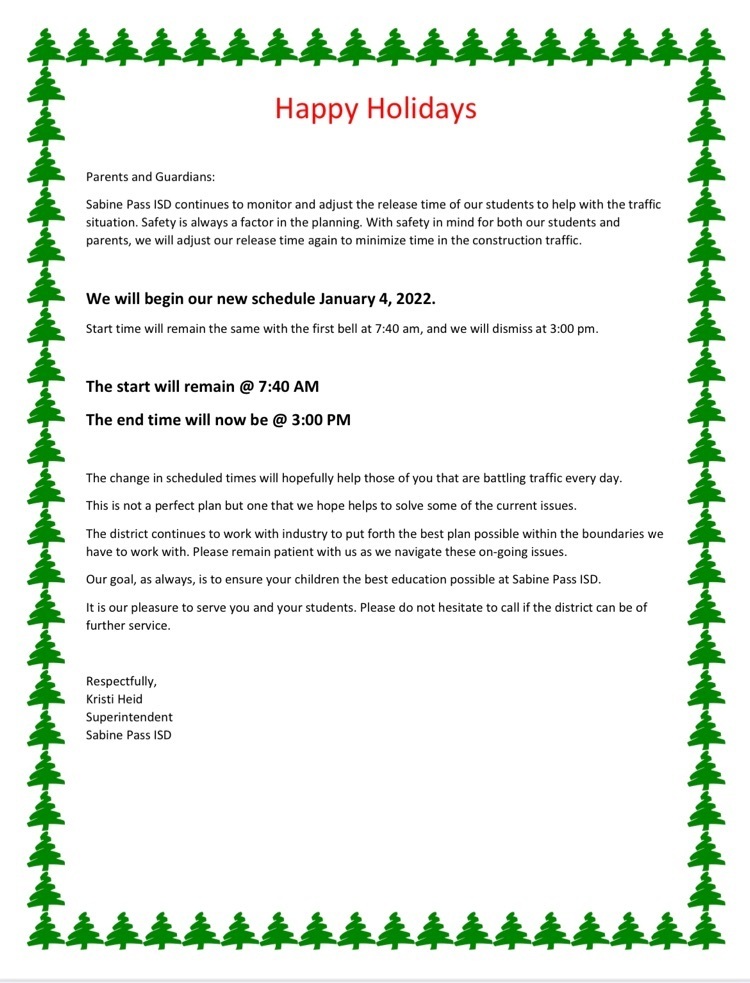 Parents, due to the afternoon traffic and our annual Winterfest performance tomorrow evening, we will have an early release at 1:45pm. If you are unable to pick-up your student(s) at this time, we will continue to hold your student at the school and run our normal afternoon bus route. No students will be allowed to remain on campus after the 3:20pm school bell.

Reminder: Sabine Pass ISD will have an early release this Friday, Dec. 17th at 12:30pm. Happy Holidays Sharks!